Useful Korean words..
A collection of useful phrases in Korean with audio recordings for most of them.
Click on any of the (non-English) phrases that are links (blue) to hear them spoken. If you can provide recordings, corrections or additional translations, please contact me.
To see these phrases in many other languages click on the English versions. If you'd like to see these phrases in any combination of two languages, try the Phrase Finder.
Key to abbreviations: frm = formal, inf = informal
Korean    Notable features of Hangeul
Type of writing system: alphabet
Direction of writing: Until the 1980s Korean was usually written from right to left in vertical columns. Since then writing from left to right in horizontal lines has become popular, and today the majority of texts are written horizontally.
Number of letter: 24 (jamo): 14 consonants and 10 vowels. The letters are combined together into syllable blocks. For example, Hangeul is written: 한 (han) = ᄒ (h) + ᅡ (a) + ᄂ (n) and 글 (geul) = ᄀ (g) + ᅳ (eu) + ᄅ (l)
The shapes of the the consontants g/k, n, s, m and ng are graphical representations of the speech organs used to pronounce them. Other consonsants were created by adding extra lines to the basic shapes.
The shapes of the the vowels are based on three elements: man (a vertical line), earth (a horizontal line) and heaven (a dot). In modern Hangeul the heavenly dot has mutated into a short line.
Spaces are placed between words, which can be made up of one or more syllables.
The sounds of some consonants change depending on whether they appear at the beginning, in the middle, or at the end of a syllable.
A number of Korean scholars have proposed an alternative method of writing Hangeul involving writing each letter in a line like in English, rather than grouping them into syllable blocks, but their efforts have been met with little interest or enthusiasm.
In South Korea hanja are used to some extent in some Korean texts.
Used to write: Korean, and , a Malayo-Polynesian language spoken on Buton Island in Indonesia.
The Hangeul alphabet (한글)
Consonants (자음/子音)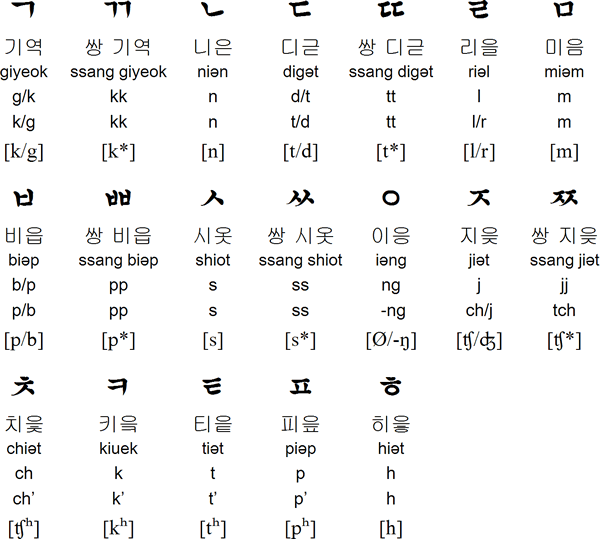 The double consonants marked with * are pronounced fortis. There is no symbol in IPA to indiciate this.
Vowels (모음/母音)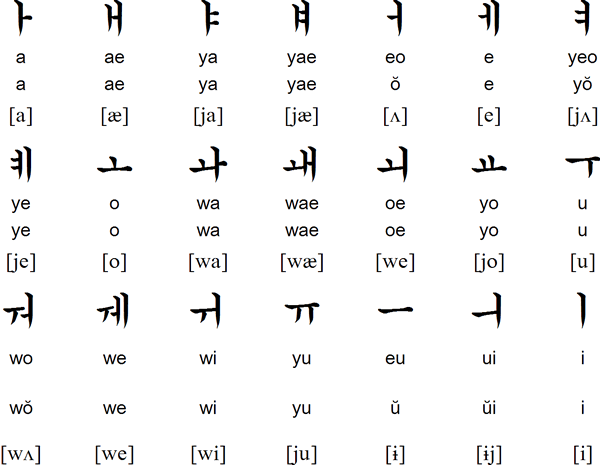 Note on the transliteration of Korean
There are a number different ways to write Korean in the Latin alphabet. The methods shown above are:
(first row) the official South Korean transliteration system, which was introduced in July 2000. You can find further details at
(second row) the McCune-Reischauer system, which was devised in 1937 by two American graduate students, George McCune and Edwin Reischauer, and is widely used in Western publications. For more details of this system.